Teaser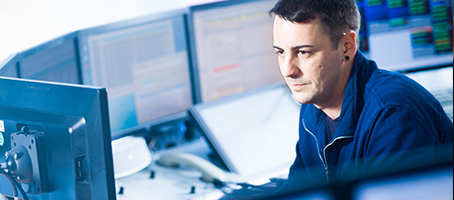 20.02.2019 | Press Release
Infraserv opens Competence Center for Process Analysis Systems
Infraserv Höchst Prozesstechnik GmbH expands its service portfolio
Infraserv Höchst Prozesstechnik GmbH opened its Competence Center for Process Analysis Systems on Tuesday, February 19. The center enables the company, which has been operating for over a year, to provide its consulting and analytical services even more effectively. This field, along with extensive process engineering services, makes up the company's service portfolio as a wholly owned subsidiary of Industriepark Höchst's operator and a member of the Infraserv Höchst Group. Joachim Kreysing, Managing Director of Infraserv Höchst GmbH & Co. KG, is thrilled that the Infraserv subsidiary has broadened its range of services: "With its Competence Center for Process Analysis Systems, Infraserv Höchst Prozesstechnik has everything it needs to provide customers in and outside our park with an even more comprehensive service experience. My warmest congratulations on the opening!"
The new Competence Center for Process Analysis Systems
At its location in the Infraserv Höchst Prozesstechnik building, the competence center has a central test gas supply system, an ultrapure water processing system, a separate section with laboratory equipment and other specialized facilities. Technicians at the center can both repair analyzers and construct new process analysis systems. "Our process analysis systems division focuses on two main lines of work: engineering and maintenance," explained Frank Unger, Managing Director of Infraserv Höchst Prozesstechnik GmbH. "That means we now cover the entire system lifecycle in process analysis and can effectively support our customers with optimal services in this area as well."
Extensive services
Customers in and outside Industriepark Höchst trust the Infraserv subsidiary to meet their process analyzer needs as well. Its service range is broad: The engineering side of the business mainly consists of the design, construction and configuration of process analysis systems based on the measurement task. In maintenance, the company offers scheduled maintenance, supported by a mobile app, as well as troubleshooting and repairs. In addition, it schedules and optimizes system servicing, procures spare parts and stocks consumables. With its broader portfolio, Infraserv Höchst Prozesstechnik provides even better services aimed at sustainably improving the availability of its customers' sophisticated process equipment through advice and action.
A look at the new Competence Center for Process Analysis Systems: Infraserv Höchst Prozesstechnik's Alexander Becker explains the testing station for EI&C systems. © 2019 Infraserv GmbH & Co. Höchst KG

Based in Frankfurt am Main, Germany, Infraserv Höchst is a leader in developing research and production sites in partnership with chemical and pharmaceutical companies. We provide modular custom solutions as well as innovative, integrated service packages, including complete site operation. Our competencies range from utilities, waste management, grid and pipeline operation to site services, facility management and environment, health and safety. The Infraserv Höchst Group also provides logistics, training and process equipment services through subsidiaries.
Infraserv Höchst develops solutions for demanding customers in a highly regulated environment.

Infraserv GmbH & Co. Höchst KG has 1,900 employees and 156 trainees on its payroll. The Infraserv Höchst Group as a whole has 2,700 employees and 193 trainees. In 2017, Infraserv Höchst and its subsidiaries, Infraserv Logistics, Infraserv Höchst Prozesstechnik, Provadis Partner für Bildung und Beratung and Thermal Conversion Compound, generated around EUR 1.1 billion in revenue.

Infraserv Höchst is the operator of Industriepark Höchst, a 460-hectare industrial park that plays host to around 90 companies doing business in pharmaceuticals, biotechnology, basic and specialty chemicals, crop protection, food additives and services. Around 22,000 people work here. Total investment since 2000 amounts to roughly EUR 7.3 billion.

All of Infraserv Höchst's press releases and pictures are available at www.infraserv.com. You can also follow us on Twitter: https://twitter.com/Infraserv. To contact our press hotline, call +49 69 305-5413.