Teaser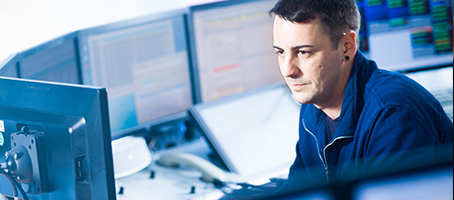 16.05.2018 | Press Release
Stable investment level at Industriepark Höchst
Park tenants invest EUR 328 million – Infraserv Höchst expands service portfolio – Large projects on hold
The Infraserv Höchst Group is growing – not just in its revenue, which rose 3.1 percent year-on-year to reach EUR 975 million (consolidated) in the 2017 financial year, but also in its operations. A new subsidiary, Infraserv Höchst Prozesstechnik GmbH, opened up for business several months ago, augmenting Infraserv Höchst's portfolio with services that target a field of tremendous importance to manufacturing companies. The successfully launched company was one of the main topics of discussion at this year's press conference, where Infraserv Managing Directors Jürgen Vormann and Joachim Kreysing reported on current projects and the evolution of Industriepark Höchst. Both also addressed critical issues that had seriously impacted Industriepark Höchst as a business location as well as the chemical and pharmaceutical industry as a whole.
Agreement regarding compliance with the Seveso Directive
One of these issues dealt with the Seveso III Directive, which requires an appropriate safety distance between residential housing and chemical production plants. An agreement has been reached with the City of Frankfurt that applies to the three industrial parks in the Frankfurt area. "The agreement lays the groundwork to retain development opportunities for the industrial parks and park tenants while allowing nearby communities to engage in responsible urban development," explained Vormann.
Dynamic development at Industriepark Höchst
Industriepark Höchst remains one of Europe's most successful research and production sites for the chemical and pharmaceutical industry. Its undiminished momentum was once again underscored by how much all the tenants had collectively invested in the park last year: EUR 328 million. "The level of investment at Industriepark Höchst is extremely stable again despite the headwinds battering some segments of the market," noted Vormann. In Kreysing's view, the companies' continued eagerness to invest in Industriepark Höchst demonstrates that the site's operator has done excellent work. "We provide an ideal environment for our efficient, needs-based service solutions – an environment that cuts a fine figure in the international market for business locations," stressed Kreysing. And while other regions in the world may have lower energy prices or tax rates, Industriepark Höchst, which has attracted over EUR 7.3 billion in investment since 2000, provides the best environment imaginable for research and production companies in the chemical and pharmaceutical industry.
One sign of the park's attractiveness is Finnish paper manufacturer UPM's plans to look into building a large biorefinery to convert wood into chemicals at Industriepark Höchst. "UPM has evaluated sites all across Europe and decided to go with Industriepark Höchst," said Kreysing. While the Infraserv Managing Director acknowledged that UPM still had to verify the project's profitability, he asserted, "If UPM builds the plant anywhere, it will be here in Höchst." In his eyes, that clearly demonstrated the park's attractiveness and competitiveness.
Energy policy: insufficient certainty for planning
Infraserv Höchst also plans to continue investing to improve the park's infrastructure and keep it competitive well into the future. Its focus is on energy generation. One of the gas turbine plants that the site operator runs is ready to be modernized, while the construction of two additional plants could make energy supplies at the park even more efficient and environmentally friendly. All told, Infraserv Höchst could conserve up to 950,000 tons of CO2 emissions per year if it follows through on its plans to invest in new gas turbine plants and stop using coal as an energy source. Since that would go a long way toward achieving the goals set for Germany's energy transition, the government generally subsidizes these types of projects. Unfortunately, the projects are currently on hold even though they are environmentally beneficial and could move the industrial park forward in its development. "We've satisfied all the legal requirements in our applications, but are still awaiting the funding decisions," said Vormann. This uncertainty represents a major obstacle to investment, particularly in the energy industry, noted the Infraserv Managing Director, who, being the Chairman of the Sector Group of Chemical Parks of the German Chemical Industry Association, is no stranger to the problems that other sites face. "Businesses need regulatory stability if they're going to make million-euro investments," stressed Kreysing as well.
Revenue on the rise at the Infraserv Höchst Group
Last year, Energy Management and Energy Trading generated around EUR 530 million in revenue, or nearly two-thirds of Infraserv GmbH & Co. Höchst KG's total revenue of EUR 866.1 million. Impressive gains were posted at the Site Services segment, including the various units that operate nationwide. The experts in Facilities Services, for example, now serve the Merck campus in Darmstadt and a location in Penzberg, Bavaria. Infraserv Höchst's environmental team is in demand throughout Germany as well. All subsidiaries reported an increase in revenue: the Provadis Group, Infraserv Logistics and Thermal Conversion Compound GmbH, who operates the RDF-fired waste-to-energy plant at Industriepark Höchst.
Infraserv Höchst Prozesstechnik: service powered by expertise
Even the new subsidiary is coming along well: Infraserv Höchst Prozesstechnik GmbH has been in business since the start of the year. "Technical services are exceedingly important for an industrial site's stability and attractiveness," explained Joachim Kreysing, Managing Director of Infraserv Höchst. "We maintain valuable expertise and supply our customers with services that demand highly specialized know-how." The new company started out serving tenants at the park but has already received inquiries and contracts from firms throughout the Rhine-Main Region.
Frank Unger, Managing Director of Infraserv Höchst Prozesstechnik GmbH, and his team have entered the market in three different segments: Asset Management & Engineering, Reliability Management, Pumps and Drives and Process Analyzers. The supply of these services is modest despite the obvious need for them – Industriepark Höchst alone has around 40,000 pumps, compressors and motors in operation.
Infraserv Prozesstechnik GmbH provides consulting services for sustainably raising the availability of complex process equipment. "We conduct an exact analysis of our customers' equipment and then use our findings to develop a holistic maintenance strategy and improve equipment availability," explained Unger. Infraserv Prozesstechnik, which operates on a manufacturer-independent basis, also provides the services needed to put its strategies into action.
Infraserv Höchst Prozesstechnik GmbH will be giving presentations at the Achema trade show, which will also be attended by Infraserv Höchst (Hall 9.1, Booth E 41). Infraserv Höchst will be using this opportunity to present a new market presence that better highlights its capabilities in the various service segments and supports its growth ambitions in its sub-markets. The industrial service provider will once again be hosting "perspectives" at Achema on Wednesday, June 13. This year, the industry event will be themed "What about the human impact?" and will address the challenges of digitization in the German chemical and pharmaceutical industry. Another important event in the Infraserv calendar: Open House Day on September 22, 2018. Thousands of visitors are expected to attend.

Stefan Pfitzner, an employee of Infraserv Höchst Prozesstechnik GmbH, explains to Infraserv Managing Directors Jürgen Vormann (second from right) and Joachim Kreysing (second from left) how pumps can be properly aligned with lasers and what role optical head-mounted displays play as Frank Unger, Managing Director of Infraserv Höchst Prozesstechnik, looks on.




Headquartered in Frankfurt, Germany, Infraserv Höchst operates advanced infrastructure for companies in the chemical, pharmaceutical and related process industries. Infraserv Höchst leverages its experience and capabilities in site operation, management and consulting to deliver site excellence for its customers. The company, which operates sites such as Industriepark Höchst, offers services in utilities, waste management, logistics and site services.
The wholly owned subsidiaries in the Infraserv Höchst Group include Infraserv Logistics, Infraserv Höchst Prozesstechnik and Provadis Partner für Bildung und Beratung. Infraserv GmbH & Co. Höchst KG has 1,900 employees and 156 trainees on its payroll. The entire Infraserv Höchst Group has some 2,700 employees and 193 trainees. In 2017, Infraserv Höchst and its subsidiaries generated approx. EUR 1.1 billion in non-consolidated revenues.
Industriepark Höchst is home to around 90 companies in pharmaceuticals, biotechnology, basic and specialty chemicals, crop protection, food additives and services. Some 22,000 people come to work at Industriepark Höchst. The site covers 460 hectares (1,137 acres); 50 hectares (123 hectares) are still available for use. The companies at the park invested EUR 328 million in the site in 2017. Total investment since 2000 is roughly EUR 7.32 billion.
All of Infraserv Höchst's press releases and pictures are available online at https://www.infraserv.com. You can also follow us on Twitter: https://twitter.com/Infraserv. To contact the press hotline, just call: +49 69 305-5413.