Teaser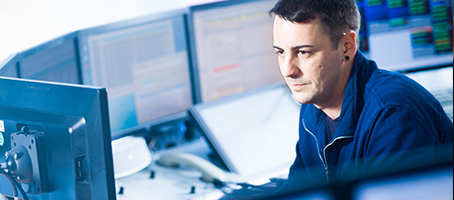 24.07.2017 | Press Release
Change management is essential for growth
Perspectives 2017: Experts discuss digitization and growth drivers in the chemical and pharmaceutical industry
How can the chemical and pharmaceutical industry set itself up for future success despite ongoing digitization and profound global changes? What factors drive sustainable growth the most? Which business models have a future, and which don't? These questions, and many others, were discussed at the fifth installment of perspectives, the premier chemical and pharmaceutical industry event hosted by Infraserv Höchst. Around 150 people came to the event to listen to the opinion leaders that Infraserv Höchst had invited to speak.
Joachim Kreysing, Managing Director of Infraserv Höchst, could have spent a long time talking about the effective design of change processes and sustainable growth, given the industrial service provider's 20-year history. Infraserv Höchst has been a major player in the dynamic development of Industriepark Höchst, which has undergone a transformation like no other chemical and pharmaceutical site in Germany and is widely known for its innovation and competitiveness. "Our business model was virtually unknown only 20 years ago, but we now use it successfully at Industriepark Höchst and beyond," said Kreysing. "It illustrates the benefit of being courageous and embracing change as an opportunity to venture down new paths."
"Change has changed"
"Successful companies pursue possibilities in the present while developing opportunities for the future," said innovation practitioner Joachim von Heimburg. In his opinion, companies must do more than just react to change. "Change has changed," he stated, referring to the increasingly rapid pace at which the business environment is evolving. Business models have to adapt prospectively to expected and conceivable changes, and that puts entirely different demands on organizational structures.
Occupations replaced by digital Solutions
Gunter Dueck's presentation was funny, entertaining and yet tremendously profound. The mathematician, author, satirist and futurologist presented ideas that were both provocative and thought-provoking. "Many decision-makers believe that Industry 4.0 won't happen for another 40 years," said Dueck. But he expects digitization to dramatically disrupt the labor market at some point in the foreseeable future: "30 percent of Germans will have to look for a new job in the future. Even doctors and pharmacists."
Nuts and bolts of growth
Successful, sustainable growth is not just a pipe dream. Franz Josef Konert, CEO of Gelita, explained exactly how to achieve it. "Constant adaptability provides the only real protection for organizations," said Konert. Gelita's success was no accident, explained Konert. It was the product of efficiency and productivity improvements, a sound growth strategy, a focused innovation process and targeted acquisitions.
Working with start-ups
Keynote speaker Jürgen Stebani focused on growth with innovation. The CEO and co-owner of Polymaterials AG talked about the role that start-ups should play in the chemical industry's innovation process. Ideally, they will translate disruptive innovations into business models, just as R&D service providers do in the pharmaceutical industry. Companies need partners who can seamlessly fit into the process chain without posing a threat to in-house development teams. "Start-ups are much nimbler because they don't have a huge organization to coordinate," said Stebani. "That's an advantage that should be leveraged."
Tackling growing challenges
How can you keep a German business site competitive for the long haul? This was the topic of the presentation given by Martin Haag, Plant Manager Mannheim at Roche Diagnostics. According to Haag, his site addresses growing challenges by upgrading infrastructure through demolition and construction and focusing on two core competencies: automation and advanced technology. As a result, Mannheim has established a lead over the rest of the company as well as over the competition.
Addressing artificial intelligence head-on
People and things are growing increasingly connected worldwide. This poses not only risks, but also a host of opportunities, according to Helmut Linde. As the Global Head of Data Science & Analytics at Merck, he helps the company develop new digital business models and drive internal change. He urged companies to address artificial intelligence and analyze its likely impact on their current business models. Data analysis will become increasingly important in the future. Companies need to develop analytical capabilities and integrate them throughout their organization.
Connectedness was an integral part of perspectives and so got the attention it deserved in the breaks and the evening program. The next chapter in the perspectives series is already scheduled: The sixth edition of the premier chemistry and pharmaceutical industry event will be held on June 13, 2018 as part of Achema.
For more information on "Growth: making it happen" and a trailer on the event, visit the digital perspectives magazine (available in German only) at http://perspectives.infraserv.com/veranstaltung/
Infraserv Managing Director Joachim Kreysing welcomed the attendees to perspectives. © Infraserv GmbH & Co. Höchst KG, 2017


Digitization and growth in the chemical and pharmaceutical industry – the topic of discussion for mathematician and author Gunter Dueck; Dr. Helmut Linde, Global Head of Data Science & Analytics at Merck; Martin Haag, Plant Manager Mannheim at Roche Diagnostics; and Joachim von Heimburg, Managing Director of jvhinnovation. © Infraserv GmbH & Co. Höchst KG, 2017


Headquartered in Frankfurt, Germany, Infraserv Höchst operates advanced infrastructure for companies in the chemical, pharmaceutical and related process industries. Infraserv Höchst leverages its experience and capabilities in site operation, management and consulting to deliver site excellence for its customers. The company, which operates sites such as Industriepark Höchst, offers services in utilities, waste management, logistics and site services.

The wholly owned subsidiaries in the Infraserv Höchst Group include Infraserv Logistics and Provadis Partner für Bildung und Beratung.
Infraserv GmbH & Co. Höchst KG has 1,800 employees and 132 trainees on its payroll. The Infraserv Höchst Group has 2,500 employees and 162 trainees. In 2016, Infraserv Höchst and its subsidiaries generated approx. EUR 1.1 billion in non-consolidated revenues.

Industriepark Höchst is home to around 90 companies in pharmaceuticals, biotechnology, basic and specialty chemicals, crop protection, food additives and services. Some 22,000 people come to work at Industriepark Höchst. The site covers 460 hectares (1,137 acres); 50 hectares (123 acres) are still available for use. The companies at the park invested around EUR 341 million in the site in 2016. Total investment since 2000 amounts to roughly EUR 6.99 billion.

All of Infraserv Höchst's press releases and pictures are available online at www.infraserv.com. To contact our press hotline, call +49 69 305-5413.