Teaser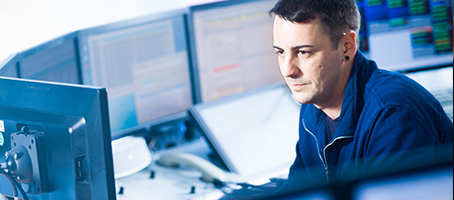 16.12.2022 | Press Release
New Infraserv hazardous materials storage facility sets new standards in safety and efficiency
Commissioning ceremony at Industriepark Höchst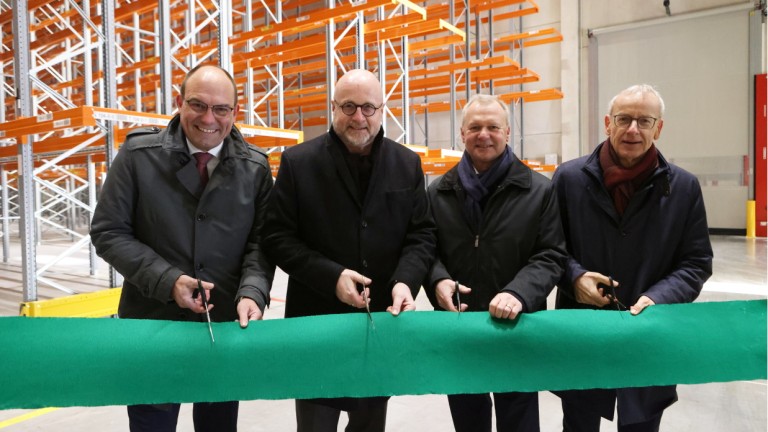 Alexander Wagner and Jürgen Vormann, Managing Directors of Infraserv Höchst, were joined by Klaus Alberti and Andreas Brockmeyer, Managing Directors of Infraserv Logistics GmbH (from left), in the symbolic commissioning of the new hazardous substances warehouse at Industriepark Höchst. © Infraserv GmbH & Co. Höchst KG, 2022
The new hazardous substance warehouse at Industriepark Höchst is completed: On Friday, December 16, Jürgen Vormann, Managing Director of Infraserv Höchst, and Klaus Alberti and Andreas Brockmeyer, the Managing Directors of Infraserv Logistics GmbH, symbolically commissioned the state-of-the-art logistics facility. Infraserv Höchst invested around EUR 35 million in the new hazardous substances warehouse, which was built in 18 months and is operated by Infraserv Logistics GmbH, a wholly owned subsidiary of Infraserv Höchst.
Jürgen Vormann: "A large chemical park needs a modern hazardous substances warehouse"
The commissioning of the 220-meter-long, 75-meter-wide and 15-meter-high warehouse, which holds around 21,500 pallet positions on a 16,500-square-meter footprint, is one of the last official acts performed by Infraserv Managing Director Jürgen Vormann – he is leaving the operating company after 18 years at its helm. "This is a very important logistics facility for Industriepark Höchst and I'm thrilled that I can still hand it over to Infraserv Logistics myself," said Vormann. "A large chemical and pharmaceutical site like Industriepark Höchst needs a modern hazardous substances warehouse. It is an elemental part of logistics infrastructure that is geared toward the special needs of the park's tenants." The outgoing Infraserv Managing Director thanked all the project team members who helped make the construction of the new hazardous substances warehouse come to life. "As Infraserv Höchst, we have invested heavily in continuously improving the park's infrastructure over the years," said Vormann. He noted that the new hazardous substances warehouse was an important element in that strategy that would strengthen the park's role as a logistics hub in the Rhine-Main Region.
The fire station for Infraserv's industrial fire brigade is right next door
Klaus Alberti, the Managing Director of Infraserv Logistics, explained the various safety measures implemented during the construction of the new hazardous substances warehouse. For example, the storage space is divided into nine structurally separate compartments in which special fire suppression equipment can release large quantities of fire-extinguishing foam within just a few minutes. That eliminates any threat posed by stored materials, even combustible ones. The location was obviously not chosen at random: The new hazardous substances warehouse is next door to one of the two fire stations staffed 24/7 by Infraserv Höchst's industrial fire brigade and is located in the center of Industriepark Höchst, placing it as far as possible from the nearest housing development.
Extensive digitalization enables efficient processes
"The new warehouse is technologically state-of-the-art, too," explained Alberti. "The extensive digitalization enables us to operate highly efficiently." For example, a new warehouse management system that Infraserv Logistics has rolled out at all of its locations has improved transparency at the interfaces to the customers and within the processes spanning production, storage and distribution. Four of the nine fire compartments are specifically intended for the temperature-controlled storage of chemical, pharmaceutical and health care products: Here, hazardous substances or pharmaceutical products can be stored at temperatures between 2 °C and 8 °C or between 15 °C and 25 °C. The new state-of-the-art building replaces and expands the current hazardous substance storage capacity at the site. The license for the new warehouse at Industriepark Höchst is defined to cover a very wide range of hazardous substances. "There is a tremendous demand for these kinds of storage facilities in the Rhine-Main Region, but they can only be built and operated at suitable sites that have the requisite safety infrastructure," said Andreas Brockmeyer. The Managing Director of Infraserv Logistics GmbH assumes that the new facility will also appeal to many companies not located at Industriepark Höchst.

Frankfurt-based Infraserv Höchst, an experienced developer of research and production sites, provides sustainable, intelligent and efficient solutions for the chemical and pharmaceutical industries. The services offered by the company, which also operates Industriepark Höchst, include utilities, waste management, grid operation, site services, health and safety, environmental protection and facility management. The subsidiaries in the Infraserv Höchst Group supply logistics, education and process technology services.
Infraserv GmbH & Co. Höchst KG has around 2,100 employees and 200 trainees on its payroll. The Infraserv Höchst Group as a whole has around 3,000 employees and 230 trainees. In 2022, Infraserv Höchst and its subsidiaries, Infraserv Logistics, Infraserv Höchst Prozesstechnik, Provadis Partner für Bildung und Beratung and Thermal Conversion Compound, generated around EUR 1.6 billion in revenue.
Covering 460 hectares, Industriepark Höchst is home to some 90 companies in pharmaceuticals, biotechnology, basic and specialty chemicals, crop protection, food additives and services. Around 22,000 people work here. Total investment since 2000 amounts to roughly EUR 8 billion.