Teaser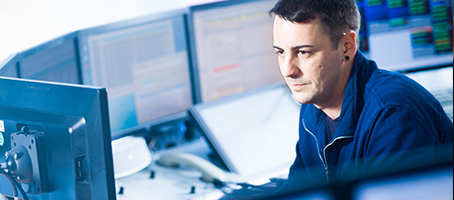 09.08.2022 | Press Release
German Chancellor Olaf Scholz visits Infraserv Höchst
Tour of hydrogen infrastructure at Industriepark Höchst
On Tuesday, August 9, German Chancellor Olaf Scholz visited Industriepark Höchst in Frankfurt am Main and learned about the development of hydrogen technology from Infraserv Höchst, the site operator. During the tour of the 4.6 square kilometer industrial site, Infraserv Höchst's Managing Director, Joachim Kreysing, showed Chancellor Scholz Hesse's first hydrogen filling station for passenger trains. The station, which Infraserv Höchst is currently building, will supply fuel to the world's largest fleet of fuel cell trains starting at the end of the year. RMV, the regional public transit operator, will operate 27 hydrogen-powered regional trains that will be refueled at Industriepark Höchst starting at the end of 2022. The discussion also revolved around the activities of Ineratec, which is planning to build a power-to-liquid plant at Industriepark Höchst.
"Sustainable energy supply with hydrogen"
"We will vigorously push hydrogen technology and use it for different types of mobility – not just to improve our sustainability but also to become more energy-independent," Chancellor Scholz said. "At Industriepark Höchst, you can see that we're not talking about tomorrow's technology. Hydrogen use is already a reality."
Chemical industry as innovation driver
Infraserv Höchst Managing Director Joachim Kreysing told Chancellor Scholz about the hydrogen hub at Industriepark Höchst, which produces some 50 million cubic meters of hydrogen a year. "The chemical industry has always been a driver of innovation and will also be instrumental in developing sustainable solutions for the energy supply of the future," said Kreysing, emphasizing the importance of connecting the Rhine-Main Region to the planned transnational hydrogen pipeline system. "Pressing questions about energy supply and the mobility concepts of the future can only be answered with the chemical industry's help."
New production plant for synthetic kerosene
Tim Böltken, Managing Director of Ineratec GmbH, presented the power-to-liquid project being implemented at Industriepark Höchst. Ineratec will be using Industriepark Höchst's technically sophisticated infrastructure to produce up to 3,500 metric tons of synthetic kerosene and chemical feedstocks each year starting in 2023. At the pioneer plant, the company will use the biogenic carbon dioxide (CO2) generated elsewhere in the park to produce synthetic fuels known as electrofuels. "By replacing fossil fuels and petrochemicals, these e-fuels make it possible to develop climate-neutral mobility solutions, especially for aviation and shipping," Böltken explained.
Frankfurt-based Infraserv Höchst, an experienced developer of research and production sites, provides sustainable, intelligent and efficient solutions for the chemical and pharmaceutical industries. The services offered by the company, which also operates Industriepark Höchst, include utilities, waste management, grid operation, site services, health and safety, environmental protection and facility management. The subsidiaries in the Infraserv Höchst Group supply logistics, education and process technology services.
Infraserv GmbH & Co. Höchst KG has around 2,100 employees and 200 trainees on its payroll. The Infraserv Höchst Group as a whole has around 3,000 employees and 230 trainees. In 2022, Infraserv Höchst and its subsidiaries, Infraserv Logistics, Infraserv Höchst Prozesstechnik, Provadis Partner für Bildung und Beratung and Thermal Conversion Compound, generated around EUR 1.6 billion in revenue.
Covering 460 hectares, Industriepark Höchst is home to some 90 companies in pharmaceuticals, biotechnology, basic and specialty chemicals, crop protection, food additives and services. Around 22,000 people work here. Total investment since 2000 amounts to roughly EUR 8 billion.