Teaser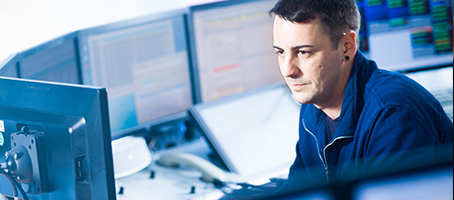 09.08.2023 | Press Release
Digital twin optimizes energy use
411 megawatt hours saved: Infraserv Höchst completes successful pilot project at cooling tower
Data science turns data into knowledge. And that means it can make plants and processes more efficient, economical and sustainable. One of data science's success stories is the energy-optimized operation of the cooling tower at Industriepark Höchst – all supported by the pump control unit's digital twin. The plant now saves 411 megawatt hours and 173 metric tons of CO2 every single year.
"We use artificial intelligence and machine learning to find hidden patterns in data that help us optimize plant operation and availability," said Frank Mollard, Head of the Data Science & Data Engineering department at Infraserv Höchst, the site's operator. He and his team use statistical methods and mathematical algorithms to leverage the full potential of the data they collect.
Optimizing energy use in the cooling tower
Working closely with the Refrigeration/Cooling/Water department, the team analyzed and interpreted fine-grained data from the cooling tower pumps over an entire year. What they found is that the pump had not been configured to optimize energy use during operation. Opportunities to conserve energy present themselves when water needs can be met while using less energy. Equipment wear and energy consumption can be slashed if flexible-use pumps with frequency converters are operated at an optimum speed and switched over in a timely manner. The plant was reproduced as a digital twin, i.e. a virtual system image, to control the cooling tower in an energy-optimized manner. The mathematical algorithm now shows the ideal pump combination for any given water demand so that the pumps will be operated in a way that maximizes energy savings and the pump's service life. Components such as built-in dampers or pressure restrictions are also considered depending on the demand. The virtual simulation of the cooling tower can be compared to a mathematical modular system and therefore applied to other plants as well. This methodology is currently being rolled out to other cooling towers.
"Basically, the process control systems were set up for the sole purpose of keeping the equipment running. That means our operating team did not have a chance to identify optimization opportunities despite having extensive experience," said Frank Mollard. The data science expert was brought in by Jasmin Krimm, Operations Assistant at the Refrigeration/Cooling/Water department. Her work portfolio focuses on energy efficiency and optimization. "Data science lets us take much bigger steps and be more focused in our work," she said. "The program serves as a support tool and provides an effective way to quickly leverage energy efficiency in routine operations."
For more information, visit https://www.infraserv.com/case-pump-control-units .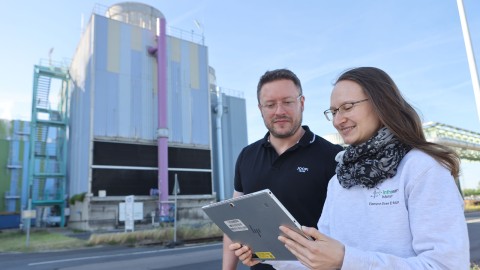 Frankfurt-based Infraserv Höchst, an experienced developer of research and production sites, provides sustainable, intelligent and efficient solutions for the chemical and pharmaceutical industries. The services offered by the company, which also operates Industriepark Höchst, include utilities, waste management, grid operation, site services, health and safety, environmental protection and facility management. The subsidiaries in the Infraserv Höchst Group supply logistics, education and process technology services.
Infraserv GmbH & Co. Höchst KG has around 2,100 employees and 200 trainees on its payroll. The Infraserv Höchst Group as a whole has around 3,000 employees and 230 trainees. In 2022, Infraserv Höchst and its subsidiaries, Infraserv Logistics, Infraserv Höchst Prozesstechnik, Provadis Partner für Bildung und Beratung and Thermal Conversion Compound, generated around EUR 1.6 billion in revenue.
Covering 460 hectares, Industriepark Höchst is home to some 90 companies in pharmaceuticals, biotechnology, basic and specialty chemicals, crop protection, food additives and services. Around 22,000 people work here. Total investment since 2000 amounts to roughly EUR 8 billion.