Teaser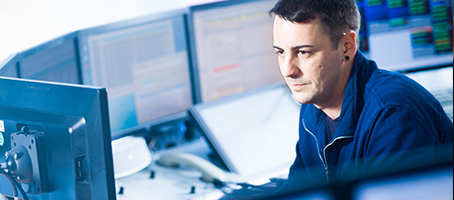 05.09.2022 | Press Release
Alexander Wagner appointed new Managing Director at Infraserv
Successor to Jürgen Vormann will join Joachim Kreysing in steering the company's fortunes
Alexander Wagner has been named the new Managing Director of Infraserv Höchst. On November 1, he will join the Management Board of Infraserv Verwaltungs GmbH and Infraserv GmbH & Co. Höchst KG. As Jürgen Vormann's successor, he will work closely with Joachim Kreysing in steering the fortunes of the company that operates Industriepark Höchst. Vormann announced back in the spring that he would be leaving the company at his own request. He will bow out at the end of the year after 18 years at Infraserv Höchst's helm.
Deep and wide experience in site operations
Wagner is an old hand in the business of operating industrial sites: In his latest position, he spent five years on the management board of Currenta, a chemical park operator based in Leverkusen. His responsibilities included production and engineering, laboratory analytical services, purchasing, communications and training. As the labor director, he also oversaw human resource management as well as the logistics and maintenance subsidiaries. The Braunschweig native began his career at Bayer AG in 2000 as the technical manager of a production plant for organic intermediates. In 2006, he became the purchasing manager for technology and services at Saltigo GmbH. In 2010, he joined Lanxess as the head of technology for its aromatics network and in 2013 took over its global benzyl products and inorganic acids business with production sites in Germany and abroad before being appointed to Current's management board in 2015. Wagner studied mechanical engineering with a concentration in process engineering at RWTH Aachen University and received his doctorate at Leibniz University in Hanover in 1999. He is married with two daughters.
Alexander Wagner will join Joachim Kreysing and Rita Bürger on the Management Board of Infraserv Verwaltungs GmbH, which is the managing general partner of the limited partnership Infraserv GmbH & Co. Höchst KG. Wagner and Kreysing will simultaneously serve on the Management Board of Infraserv Verwaltungs GmbH and oversee the operational management of Infraserv GmbH & Co. Höchst KG, the company that operates Industriepark Höchst. Bürger, in her role on the Management Board of Infraserv Verwaltungs GmbH, will remain responsible for the Infraserv companies in Knapsack, Gendorf and Wiesbaden, where operational responsibility has been delegated to local managers.
Looking forward to exciting challenge
"I'm very much looking forward to this new, extremely exciting challenge. Infraserv Höchst is a very well-positioned company with outstanding prospects that we will shape together with the employees," Wagner said. Kreysing extended a warm welcome to his new colleague in management: "Together, we will successfully execute the projects we have lined up at Industriepark Höchst and tackle the big challenges facing our industry. I look forward to working with him." Vormann emphasized that Wagner's recruitment means that he was being succeeded on Infraserv's Management Board by a seasoned expert who will join Kreysing – who has been a Managing Director at Infraserv Höchst since 2015 – in driving the company's further evolution: "The past 18 years at Infraserv Höchst's helm have been exciting and punctuated by big challenges and profound changes within the company. Now, I believe that the company needs fresh new ideas to write the next chapter in its success story. That was one of the main motivations for me to step down at the end of the year. This is an ideal situation, from my point of view: Joachim Kreysing knows the company inside out, while Alexander Wagner brings a fresh outside perspective supported by a wealth of industry knowledge." Bürger, who as the managing director of Celanese Services Germany GmbH is also a member of the Management Board of Infraserv Verwaltungs GmbH, wished the new Managing Director all the best: "I am very pleased that we recruited Alexander Wagner – a capable manager with tremendous experience operating industrial sites who, together with Joachim Kreysing, will form an excellent management team. They will continue Infraserv Höchst's success story, which Jürgen Vormann has significantly shaped over the past 18 years, and drive the future evolution of the company and Industriepark Höchst in the years to come."
Frankfurt-based Infraserv Höchst, an experienced developer of research and production sites, provides sustainable, intelligent and efficient solutions for the chemical and pharmaceutical industries. The services offered by the company, which also operates Industriepark Höchst, include utilities, waste management, grid operation, site services, health and safety, environmental protection and facility management. The subsidiaries in the Infraserv Höchst Group supply logistics, education and process technology services.
Infraserv GmbH & Co. Höchst KG has around 2,100 employees and 200 trainees on its payroll. The Infraserv Höchst Group as a whole has around 3,000 employees and 230 trainees. In 2022, Infraserv Höchst and its subsidiaries, Infraserv Logistics, Infraserv Höchst Prozesstechnik, Provadis Partner für Bildung und Beratung and Thermal Conversion Compound, generated around EUR 1.6 billion in revenue.
Covering 460 hectares, Industriepark Höchst is home to some 90 companies in pharmaceuticals, biotechnology, basic and specialty chemicals, crop protection, food additives and services. Around 22,000 people work here. Total investment since 2000 amounts to roughly EUR 8 billion.