Teaser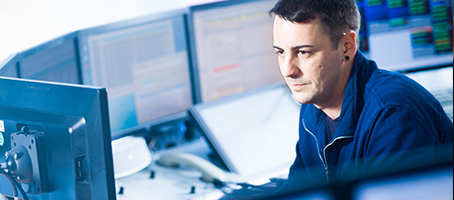 27.01.2021 | Press Release
Climate protection in aviation
Hesse becomes technology hub for alternative fuels
Located in the heartland of Germany and not far from Frankfurt Airport, Industriepark Höchst is evolving into an innovation hub for alternative carbon-neutral fuels. "A great deal has happened here in Hesse and throughout Germany and Europe since we established the Center of Competence for Climate, Environment and Noise Protection in Aviation a year ago. And we have seen that, between the airport, logistics industry and Industriepark Höchst, Hesse has undeniable locational advantages," said State Minister of Economics and Transport Tarek Al-Wazir today as he joined Infraserv Höchst, INERATEC and CAPHENIA in presenting development plans for Industriepark Höchst.

INERATEC GmbH intends to build a power-to-liquid pioneer plant capable of producing 4.6 million liters of these fuels a year beginning in 2022. CAPHENIA is developing an innovative power-and-biogas-to-liquid (PBtL) process to produce renewable fuels and basic chemicals.

Aviation CO2 emissions were constantly increasing until the pandemic began. "We desperately need to cut CO2 emissions from traffic, especially in aviation. However, greening the transportation sector will take more than just replacing short-haul flights with trains and making aircraft more fuel-efficient. We also need carbon-neutral fuels, especially at intercontinental airports like Frankfurt," the Minister of Transport said. "That's why the state of Hesse is focusing on synthetic jet fuel from power-to-liquid solutions as a technology of the future."


A pilot plant for producing synthetic jet fuel is being built at Industriepark Höchst to gain valuable experience in developing alternative fuels. © Infraserv Höchst, 2021

Hesse has been working on this idea for two years

In late 2018, the signatories of the Hessian coalition agreement agreed to press ahead with building a pilot plant for synthetic jet fuel in order to gain crucial initial experience in switching to clean fuels, especially in aviation. Since then, tremendous efforts have been made not only to establish the necessary conditions but also to promote a nationwide network for this new technology and advertise Hesse's advantages as a business location.

"The Center of Competence for Climate, Environment and Noise Protection in Aviation began operating at the start of 2020. There are companies that intend to develop projects for alternative transportation fuels at Industriepark Höchst," said the Minister of Transport. "We are proactively supporting the continued development of these innovations and the creation of an innovation hub for synthetic jet fuel here in Hesse. We are providing state money but want to raise federal funds, too. We expect to leverage synergies with the projects already planned in Höchst and send a clear signal to Berlin that Hesse is an attractive place to develop tomorrow's technologies."

Hesse participates in the federal government's power-to-liquid roadmap

Power-to-liquid technology gained a lot of traction in 2020. The EU and the German federal government are collaborating on a regulatory framework. In addition, Germany's federal budget includes extensive funding for alternative fuels and the production of "green" hydrogen as an important input for power-to-liquid fuels. At the same time, the German federal government is working with states and industry players to develop a power-to-liquid roadmap, a process in which Hesse is playing a key role. Hesse also wants to lure a hydrogen technology center to the state. Joined by the State Energy Agency (LEA) and Hessen Trade and Invest, the Ministry of Transport is aiming to attract a consortium of players in industry, research and economic development to set up a center in Frankfurt-Höchst.

"The coronavirus pandemic has thrown up huge challenges for the airline industry. The slump in passenger numbers has set Frankfurt Airport back several years. By making a commitment to carbon-neutral fuels, we are thinking ahead to life after the pandemic. People will want to travel again." But the climate crisis has not gone into quarantine: "We need greener transportation," said Al-Wazir. "CO2 emissions may have declined in the electric power sector, but they remain high in transportation. We need to reduce and electrify traffic flows wherever humanly possible. However, we will not be able to electrify medium- and long-haul flights or waterborne transports in the foreseeable future. That is why we, the state of Hesse, are so pleased to see groundbreaking innovations at Industriepark Höchst and projects like the ones led by INERATEC and CAPHENIA."

"Industriepark Höchst is an excellent location for developing sustainable technologies and has an infrastructure that provides an ideal environment for innovative companies," said Joachim Kreysing, Managing Director of Infraserv Höchst. The operator of the 4.6 km² industrial site west of Frankfurt has been investing in sustainable technologies for years. For example, the first public hydrogen filling station went into operation at the park in 2006; the infrastructure for refueling fuel cell-powered trains with hydrogen is currently being built there; and Industriepark Höchst will be completely coal-free by next year – Infraserv Höchst is currently investing around EUR 300 million in state-of-the-art gas turbine plants. The park operator has also joined forces with Ineratec and other European partners in operating a research facility for converting CO2 into chemical products as part of ICO2CHEM, an EU project.

"As a partner to the chemical industry, we care deeply about energy efficiency and climate protection," said Kreysing. The company and the site are committed to the industry's goals, which aims to achieve "CO2-free chemicals" by 2050. "Technologies such as power-to-gas and power-to-liquid will play a big role in successful decarbonization," said Kreysing.

Bernhard Dietrich, Head of CENA: "We are supporting technological innovation, building interconnected infrastructures and creating frameworks for a functioning market to enable a breakthrough in sustainable aviation fuels (SAF)."

INERATEC is a spinoff of the Karlsruhe Institute of Technology. It develops, builds and operates modular plants that produce synthetic fuels and waxes using the Fischer-Tropsch process. It is currently designing the world's largest PTL plant at Industriepark Höchst in Frankfurt. Managing Director Philipp Engelkamp: "The INERATEC power-to-liquid pioneer plant will make carbon-neutral synthetic fuels available for the first time in history. We will use a modular approach to expand production capacity worldwide."

CAPHENIA's innovative power-and-biogas-to-liquid process aims to produce renewable fuels and basic chemicals. The process inputs are biomethane, CO2, water, and electricity from renewable sources. The first pilot plant will also be built at Industriepark Höchst in Frankfurt. "We are delighted to reach this milestone in the development of our highly efficient novel synthetic fuel production route at Industriepark Höchst, in close proximity to Frankfurt Airport," said Mark Misselhorn, CEO of CAPHENIA at the joint presentation.

The Center of Competence for Climate, Environment and Noise Protection in Aviation (CENA) was initiated in 2020 by the state of Hesse and is supported by state funding. It is based at the HOLM and associated with the state-owned Hessen Trade and Invest GmbH. One of its priorities is to proactively focus on developing ways to establish the adoption of clean fuel in aviation in order to make the Hesse air hub and its resident air carriers more viable and climate-friendly in the future.

Infraserv Höchst is a leader in the development of research and production sites in partnership with chemical and pharmaceutical companies and offers custom modular solutions as well as innovative integrated service bundles up to end-to-end site operation services. The company's competencies range from utilities, waste management, grid and pipeline operation to site services, facility management and environment, health and safety. The Infraserv Höchst Group also provides logistics, training and process equipment services through its subsidiaries. Infraserv GmbH & Co. Höchst KG has 1,900 employees and 156 trainees on its payroll. The Infraserv Höchst Group as a whole has 2,700 employees and 193 trainees. In 2019, Infraserv Höchst and its subsidiaries generated over EUR 1 billion in revenue.
Infraserv Höchst is the operator of Industriepark Höchst, a 460-hectare industrial park that plays host to around 90 companies doing business in pharmaceuticals, biotechnology, basic and specialty chemicals, crop protection, food additives and services with around 22,000 employees. Total investment since 2000 amounts to roughly EUR 8 billion.