Teaser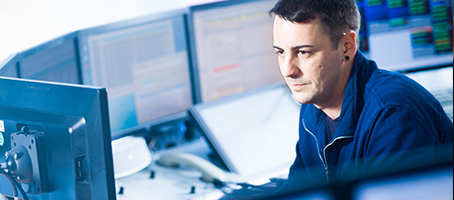 20.12.2018 | Press Release
Effective maintenance with head-mounted display
Infraserv Höchst drives system integration with apps – wins Innovation Award for head-mounted display app
Want to go paperless when touring a plant? Consult experts while in the field when you encounter a problem? In short, do you want to make your job easier with a head-mounted display (HMD)? Industrial service provider Infraserv Höchst has test-driven various scenarios for using head-mounted displays – from on-call service to facility surveys to training and development. The industrial service provider's conclusion: HMD technology is advanced enough for a panoply of different areas. The main benefit is that it frees up both hands to work. Head-mounted displays are voice-controlled and can be worn with a full set of personal protective equipment like hard hat or goggles – a definite plus, especially in an industrial environment.
Pioneer in SAP system Integration
"We believe HMDs are a good fit for routine work tasks and so are already making good use of them to consult with specialists. Unfortunately, they initially couldn't communicate with SAP or our other systems," said Ralph Urban, Head of the Competency Team for IT Maintenance & Real Estate at Infraserv Höchst. To address this deficiency, Urban and his colleagues from the Infraserv IT department worked together with Hochschule Düsseldorf, University of Applied Sciences, to develop a suitable application for head-mounted displays. This voice-controlled app for facility surveys, maintenance and inspections provides much-needed system integration and eliminates the need for paper processes.
"The HMD app has exceeded our expectations – and has made us one of the pioneers in the field," said Frank Unger, Managing Director of Infraserv Höchst Prozesstechnik. Although the newly established Infraserv Höchst subsidiary has only been in business since the start of 2018, head-mounted displays are already part of its regular toolkit. The technical service provider was also the innovative application's first user in day-to-day operations.
Head-mounted displays are integral to Infraserv Höchst's "mobile maintenance" push in which technicians handle repairs, maintenance and inspections with customized apps instead of paper forms. "Mobile processes that use smartphones, tablets or HMDs glasses aren't just quicker; they also generate better documentation," explained Urban.
How the "Facility Surveys, Maintenance and Inspection" app works
The new HMD application helps employees check, capture and document the condition of plants and equipment. It is 100% voice-controlled and can automatically select machines and their corresponding inspection orders by scanning a QR or bar code. "The app's voice control function was a gamble. But field tests showed that it worked extremely well despite high noise levels in some of the plants," said Urban.
The augmented reality device features four digital microphones with active ambient noise cancellation. It is dust-tight, resistant to water jets and able to withstand falls of up to two meters onto concrete. In addition, the adjustable monitor in the user's field of vision allows the HMD to be worn alongside prescription glasses and personal protective equipment.
Users can use HMDs to call other people for video consultations. It also presents additional information for the user, from checklists to master data to manufacturer information. That way, all the relevant details and documents are provided digitally.
In addition to identifying plants and equipment by voice command, QR or bar code, the application can also display equipment checklists and capture equipment conditions and readings. Inspections can be documented in the app. It's also possible to report malfunctions and upload completed checklists with the latest values to the SAP system.
To see how the app works, curious minds can watch a video recorded in the test environment of a chilling plant. It can be accessed at Infraserv Höchst's Youtube channel under the name "Datenbrille goes live" (HMD goes live).
This cutting-edge use of head-mounted displays has garnered praise from many quarters. For example, Neptune, Infraserv Höchst's SAP development platform, won the Innovation Award of the Year for the application at the 2018 summit in Oslo. Other companies and industry conference attendees have expressed considerable interest in the app. "It's a tremendous validation for the innovative work being done at Infraserv Höchst. Others may talk about Industry 4.0, but we're putting it into practice," said Infraserv Höchst Prozesstechnik's managing director, Frank Unger.
A definite plus: the head-mounted display leaves both hands free to work. © Infraserv GmbH & Co. Höchst KG, 2018



The app, which was specially developed for the head-mounted display, is 100% voice controlled. © Infraserv GmbH & Co. Höchst KG, 2018
Based in Frankfurt am Main, Germany, Infraserv Höchst is a leader in developing research and production sites in partnership with chemical and pharmaceutical companies. We provide modular custom solutions as well as innovative, integrated service packages, including complete site operation. Our competencies range from utilities, waste management, grid and pipeline operation to site services, facility management and environment, health and safety. The Infraserv Höchst Group also provides logistics, training and process equipment services through subsidiaries.
Infraserv Höchst develops solutions for demanding customers in a highly regulated environment.

Infraserv GmbH & Co. Höchst KG has 1,900 employees and 156 trainees on its payroll. The Infraserv Höchst Group as a whole has 2,700 employees and 193 trainees. In 2017, Infraserv Höchst and its subsidiaries, Infraserv Logistics, Infraserv Höchst Prozesstechnik, Provadis Partner für Bildung und Beratung and Thermal Conversion Compound, generated around EUR 1.1 billion in revenue.

Infraserv Höchst is the operator of Industriepark Höchst, a 460-hectare industrial park that plays host to around 90 companies doing business in pharmaceuticals, biotechnology, basic and specialty chemicals, crop protection, food additives and services. Around 22,000 people work here. Total investment since 2000 amounts to roughly EUR 7.3 billion.

All of Infraserv Höchst's press releases and pictures are available at www.infraserv.com. You can also follow us on Twitter: https://twitter.com/Infraserv. To contact our press hotline, call +49 69 305-5413.