Teaser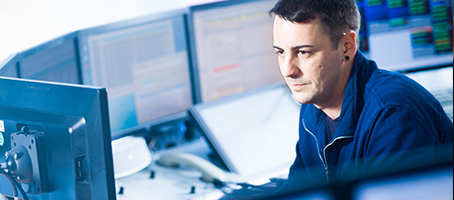 06.12.2018 | Press Release
Infraserv employee is nation's best graduating electronics technician
Federal President Steinmeier honors Laurent Schulze at the IHK National Valedictorian Awards in Berlin
An Infraserv Höchst employee is the German "champion" in his field: Laurent Schulze aced his final exams in the winter of 2017/18, becoming the nation's best electronics technician for building and infrastructure systems. The 25-year-old received the award from the Conference of German Chambers of Industry and Commerce in Berlin on December 3 as part of the National Valedictorian Awards for IHK Professions. ("IHK" is a German acronym for the Chamber of Industry and Commerce.) The keynote speaker at this year's awards ceremony was Federal President Frank-Walter Steinmeier.
Laurent Schulze started his training program at Infraserv Höchst in 2015 and took his final examination in SCADA technology. "We're thrilled that our employee is one of Germany's best graduating vocational trainees. That's an honor for his trainers at Provadis and in the field, too," said Joachim Kreysing, Managing Director of Infraserv Höchst. The industrial service provider, like many other companies at Industriepark Höchst and in the Rhine-Main Region, entrusts the training of its vocational trainees to Provadis, one of its subsidiaries and Hesse's largest training and development company.
The Frankfurt IHK had already recognized Laurent Schulze in October as the best trainee in the state of Hesse. "I really enjoyed the training program, which made it incredibly easy to learn and study," reported the nation's best graduating electronics technician for building and infrastructure systems, who will be pursuing a degree in IT security on a part-time basis while working.
Every year, over 300,000 vocational trainees take their final examinations before an IHK. The chamber then identifies the graduates with the best overall final exam grades in the various training programs. Around 200 of these valedictorians are honored with awards each year.
Infraserv employee Laurent Schulze was recognized as the nation's best graduating electronics technician. © Infraserv GmbH & Co. Höchst KG, 2018
Based in Frankfurt am Main, Germany, Infraserv Höchst is a leader in developing research and production sites in partnership with chemical and pharmaceutical companies. We provide modular custom solutions as well as innovative, integrated service packages, including complete site operation. Our competencies range from utilities, waste management, grid and pipeline operation to site services, facility management and environment, health and safety. The Infraserv Höchst Group also provides logistics, training and process equipment services through subsidiaries.
Infraserv Höchst develops solutions for demanding customers in a highly regulated environment.

Infraserv GmbH & Co. Höchst KG has 1,900 employees and 156 trainees on its payroll. The Infraserv Höchst Group as a whole has 2,700 employees and 193 trainees. In 2017, Infraserv Höchst and its subsidiaries, Infraserv Logistics, Infraserv Höchst Prozesstechnik, Provadis Partner für Bildung und Beratung and Thermal Conversion Compound, generated around EUR 1.1 billion in revenue.

Infraserv Höchst is the operator of Industriepark Höchst, a 460-hectare industrial park that plays host to around 90 companies doing business in pharmaceuticals, biotechnology, basic and specialty chemicals, crop protection, food additives and services. Around 22,000 people work here. Total investment since 2000 amounts to roughly EUR 7.3 billion.

All of Infraserv Höchst's press releases and pictures are available at www.infraserv.com. You can also follow us on Twitter: https://twitter.com/Infraserv. To contact our press hotline, call +49 69 305-5413.