Teaser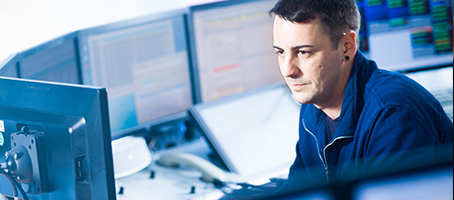 29.09.2017 | Press Release
Green transportation with hydrogen
The Rhine-Main Region's first fuel cell buses are up and running at Industriepark Höchst
At first, it's hard to tell the two fuel cell buses apart from conventional diesel-powered buses. They're similar in length, width and height. After a few moments, though, the eye detects additional rooftop components: seven tanks, a high-voltage battery, a cooling system and, of course, the fuel cell itself. The two hydrogen-powered fuel cell buses – the first in the Rhine-Main Region – are now operating at Industriepark Höchst as part of a pilot project.
Well-developed hydrogen infrastructure
Infraserv Höchst, the company managing the industrial park, is pursuing a multipronged strategy to reduce greenhouse gas emissions and conserve natural resources. "Being an innovative service provider, we are constantly refining our energy supply approach and trying to make the best possible use of clean, renewable energy," said Joachim Kreysing, Managing Director of Infraserv Höchst. "Hydrogen and fuel cell technology is a great fit for Industriepark Höchst, which provides the perfect setting for building hydrogen infrastructure."
Hydrogen, a green alternative to diesel and gasoline, is generated as a byproduct of chlorine production at Industriepark Höchst in huge quantities – 50 million cubic meters per year. That's enough hydrogen to power 20,000 cars or 400 buses with zero local emissions. A fleet of 400 hydrogen-fueled buses traveling 22.5 million person-kilometers a year would eliminate around 25,000 metric tons of CO2 emissions annually. Industriepark Höchst doesn't just produce hydrogen fuel, either; it has the infrastructure to go with it: A hydrogen fueling station, funded under an EU project ("Zero Regio"), has been in operation since 2006.
Forward-looking approach for the future
Winzenhöler operates the bus lines that serve Industriepark Höchst. The bus company purchased its vehicles in Switzerland, where they had served in the EU's Clean Hydrogen in European Cities (CHIC) project. By employing hydrogen-powered buses at Industriepark Höchst, company owner Christian Winzenhöler is participating in the National Innovation Program for Hydrogen and Fuel Cell Technology, funded by the German Federal Ministry of Transport and Digital Infrastructure and coordinated by the National Organization for Hydrogen and Fuel Cell Technology (also known as NOW). The program aims to make hydrogen and fuel cell technology a competitive option for the energy market and the transportation sector by the middle of the next decade. Winzenhöler's research mission is to research the non-technical factors influencing the availability of fuel cell buses. But what exactly are "non-technical factors"? Basically, it boils down to the man-machine relationship. To improve this relationship, drivers receive extensive training – on individual components, on proper fueling procedures and on driving practices that capture the most accelerating and braking energy possible and take account of differences in the bus's center of gravity.
"Industriepark Höchst is an ideal place to operate fuel cell vehicles," said Winzenhöler. "All our expectations have been exceeded. The fuel cell buses are technically sound, reliable in operation and consume less fuel than anticipated. This truly is a forward-looking approach for the future."
Jan-Robert Schwark, Head of Site Management at Infraserv Höchst, also supports the use of fuel cell buses: "We're thrilled to have taken the lead in the Rhine-Main Region. It gives us yet another opportunity to highlight the innovativeness of our park and our openness to new technologies. And it's another step toward a sustainable energy future." Outside of Industriepark Höchst, the Citaro FuelCELL Hybrid – the model name for this Mercedes-Benz bus – can only be seen in Karlsruhe, Stuttgart, Hamburg, Bolzano and Milan.
Zero emissions guaranteed
"I only emit water vapor." – That's the promise heralded by the fuel cell bus as it trundles through Industriepark Höchst. Zero emissions guaranteed. Here's how: Hydrogen in the fuel cell generates electricity that powers the electric motors. When the bus brakes or idles, the motors recover energy that flows into the battery. Fuel cell systems convert energy far more efficiently than internal combustion engines. After all, they generate electricity directly from the hydrogen's stored chemical energy, while conventional engines have to convert the fuel's chemical energy first into heat, and then into mechanical energy. One tank holds enough fuel for the bus to travel around 350 kilometers.
Hydrogen-powered buses are still relatively expensive. Conventional vehicles cost around EUR 260,000; cutting-edge fuel cell buses run over EUR 1 million. Fuel and maintenance costs are also higher than with diesel vehicles. But that is bound to change as fuel cell buses become more prevalent and numerous.
Germany's federal government supports fuel cell research and development under its National Innovation Program for Hydrogen and Fuel Cell Technology. "The next technological innovations will focus on things like cutting costs and improving reliability," said Philipp Braunsdorf, Program Manager Hydrogen Infrastructure at NOW. "Funding is also being provided for vehicle and infrastructure investments as part of a market activation phase. Over the medium to long term, hydrogen fuel cell technology will serve as an effective lever for attaining our climate targets and enabling zero-emission transportation in Germany and Europe."
Jan-Robert Schwark (left to right), Head of Site Management at Infraserv Höchst, Joachim Kreysing, Managing Director of Infraserv Höchst, Christian Winzenhöler, owner of bus company Winzenhöler, and Philipp Braunsdorf, Program Manager Hydrogen Infrastructure at NOW, in front of one of the new fuel cell buses running in Industriepark Höchst. © 2017 Infraserv GmbH & Co. Höchst KG
Headquartered in Frankfurt, Germany, Infraserv Höchst operates advanced infrastructure for companies in the chemical, pharmaceutical and related process industries. Infraserv Höchst leverages its experience and capabilities in site operation, management and consulting to deliver site excellence for its customers. The company, which operates sites such as Industriepark Höchst, offers services in utilities, waste management, logistics and site services.

The wholly owned subsidiaries in the Infraserv Höchst Group include Infraserv Logistics and Provadis Partner für Bildung und Beratung.
Infraserv GmbH & Co. Höchst KG has 1,800 employees and 132 trainees on its payroll. The Infraserv Höchst Group has 2,500 employees and 162 trainees. In 2016, Infraserv Höchst and its subsidiaries generated approx. EUR 1.1 billion in non-consolidated revenues.

Industriepark Höchst is home to around 90 companies in pharmaceuticals, biotechnology, basic and specialty chemicals, crop protection, food additives and services. Some 22,000 people come to work at Industriepark Höchst. The site covers 460 hectares (1,137 acres); 50 hectares (123 acres) are still available for use. The companies at the park invested around EUR 341 million in the site in 2016. Total investment since 2000 amounts to roughly EUR 6.99 billion.

All of Infraserv Höchst's press releases and pictures are available online at www.infraserv.com. To contact our press hotline, call +49 69 305-5413.