Teaser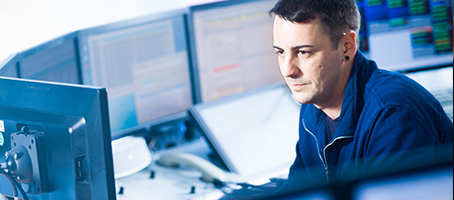 23.11.2022 | Press Release
Reinforcements for Industriepark Höchst's steam supplies
Infraserv Höchst uses fuel oil to supply manufacturing companies with steam
Infraserv Höchst has laid the foundation for generating enough process steam to supply the production plants at Industriepark Höchst even if there is a natural gas shortage. "We will be using fuel oil in addition to natural gas at our power plant starting in early December in order to reliably supply the roughly 120 production plants at our park and keep them up and running," said Joachim Kreysing, Managing Director of Infraserv Höchst. The operator of the park – where more than 90 companies are based and around 22,000 employees work – is also responsible for supplying the park's tenants with utilities. The 4.6 square kilometer industrial estate located to the west of Frankfurt am Main is one of the largest, most dynamic chemical and pharmaceutical sites in Europe. It is where countless products are made – from lifesaving medicines to food additives, high-performance plastics for a wide variety of applications all the way to crop protection agents that increase crop yields.
Coal phased out at Industriepark Höchst back in 2020
Infraserv Höchst started preparing for possible restrictions on supplies of natural gas at Industriepark Höchst back when the Ukraine war began. "To reduce harmful CO2 emissions, we had phased out coal at the end of 2020 and switched our utility services at the park over to natural gas," Kreysing explained. "That means gas supply restrictions would have a major impact on our tenants' production operations." Natural gas still meets much of the site's energy needs despite the fact that Infraserv Höchst generates energy with refuse-derived fuel, i.e. the high-calorific-value fractions of municipal solid waste, operates one of Germany's largest biogas plants and recovers waste heat from production plants and incinerators in order to inject it into the industrial park's utility supply systems. Since Industriepark Höchst is a highly integrated site in which the various companies depend on each other for products and raw materials, it is next to impossible to only supply utilities to individual plants that play a particularly important role in providing essential goods and services to the population.
Several million euros invested in converting the combined heat and power plant
Infraserv Höchst has spent the past several months making all the necessary changes to its equipment and operating permits in order to also use light fuel oil in its combined heat and power (CHP) plant starting in December. It has invested millions in converting the CHP plant and the requisite infrastructure. Pipelines were installed to transport the fuel oil – which is delivered by barge and stored in a tank farm on the shore of the Main River – to the CHP plant. Infraserv Höchst signed contracts locking in enough fuel oil to replace a significant portion of the gas required to generate the utilities that its tenants need. That way, production operations at the site can continue even if natural gas availability declines. Production slowdowns would only be unavoidable in the unlikely event of a complete interruption of gas supplies.
Energy conservation options very limited
There are very tight constraints on companies' ability to conserve energy at Industriepark Höchst. "The chemical industry is an energy-intensive sector in which energy costs constitute a large proportion of total production costs. That alone gives it a compelling economic interest in conserving energy and thus minimizing its production costs in order to stay competitive. In other words, energy efficiency and the continuous optimization of generation and supply processes are already baked into day-to-day operational processes at Industriepark Höchst," Kreysing explained. Infraserv Höchst, for example, employs co-generation in all its energy-producing plants in order to achieve particularly high efficiencies. Recovering waste heat from production plants and incinerators further enhances the efficiency of energy generation.
Based in Frankfurt am Main, Germany, Infraserv Höchst is a leader in developing research and production sites in partnership with chemical and pharmaceutical companies. We provide modular custom solutions as well as innovative, integrated service packages, including complete site operation. Our competencies range from utilities, waste management, grid and pipeline operation to site services, facility management and environment, health and safety. The Infraserv Höchst Group also provides logistics, training and process equipment services through subsidiaries.
Infraserv Höchst develops solutions for demanding customers in a highly regulated environment.
Infraserv GmbH & Co. Höchst KG has 2,000 employees and 165 trainees on its payroll. The Infraserv Höchst Group as a whole has 2,800 employees and 205 trainees. In 2021, Infraserv Höchst and its subsidiaries, Infraserv Logistics, Infraserv Höchst Prozesstechnik, Provadis Partner für Bildung und Beratung and Thermal Conversion Compound, generated over EUR 1,1 billion in revenue.
Infraserv Höchst is the operator of Industriepark Höchst, a 460-hectare industrial park that plays host to around 90 companies doing business in pharmaceuticals, biotechnology, basic and specialty chemicals, crop protection, food additives and services. Around 22,000 people work here. Total investment since 2000 amounts to roughly EUR 8 billion.