Teaser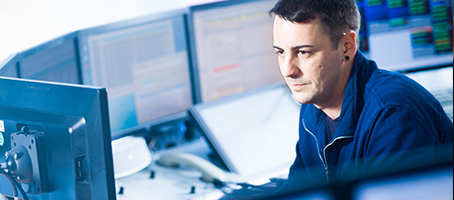 06.03.2020 | Press Release
Infraserv Höchst turns to "electronic noses"
Pilot project uses state-of-the-art sensor technology to measure odors in Sindlingen
Infraserv Höchst is trialing the use of "electronic noses" as part of an odor measurement program in Sindlingen. Eight measuring instruments featuring state-of-the-art sensors that can detect and document odors will be installed in streets located near Industriepark Höchst over the next several days. The pilot project, which will run for an initial one-year trial period with the involvement of various companies and Saarland University, will supplement the odor measurements that have been taken since 2008 – using human noses.

Million-euro investments in odor reduction

"Never before have we had a truly reliable alternative to the human nose for detecting and identifying odors," explained Guido Schmitt, Head of Environmental Protection at Infraserv Höchst. He oversees the measurement program that Infraserv Höchst has been conducting for more than a decade to detect and classify nuisance odors in Sindlingen and Kelsterbach. Every day, employees from an independent institute stand at defined measurement points and document whether they smell anything and, if so, what it is. Odors of chemicals, sewage sludge or wastewater can drift into these neighborhoods from the industrial park if the wind is blowing in the wrong direction. Several million euros have been invested in Infraserv Höchst's waste disposal facilities over the past ten years to improve the odor situation. These efforts have paid off, according to the measurements, which are published at www.ihr-nachbar.de. "Odor pollution from wastewater and sewage sludge has decreased considerably. However, chemical odors have become more prominent. That is why we are continuing to track down and eliminate the sources of these odors," explained Schmitt. "It's also the motivation behind the sensor pilot project." Infraserv Höchst has taken this step in response to an odor measurement request presented at the Industriepark Höchst Neighborhood Forum. The idea of detecting odors with electronic sensors had been suggested in the forum once before; however, the technology was not yet available. "The technology has evolved since then, and we want to try to use these new sensors to obtain better, more reliable data on the odor situation so we can take targeted action to reduce odor pollution," explained Schmitt.

Modern sensor technology can distinguish between odors

How does an "electronic nose" work? The measurement instruments contain metal oxide sensors whose conductivity changes when they contact gas molecules. "The molecules modify the electrical signal, producing signal patterns that vary depending on the type of molecule," explained Schmitt. That makes it possible to distinguish between different gases and odors. The instruments have been successfully tested in preliminary trials at the industrial park, clearing the way for the pilot project to launch in Sindlingen.

Information flyer for residents

The measurement instruments are installed on streetlights at around 2.50 m above the ground. The data is transferred over an LTE connection, just like with a smartphone. Infraserv Höchst will be sending information flyers about the new measurement program and the instruments to the people who live on the streets being equipped with the devices.
The pilot project is being conducted by a consortium that includes Saarland University; 3S GmbH, who makes the sensor systems; and Olfasense GmbH, who has been conducting the odor measurement program for Infraserv Höchst since 2008. The project has received funding from the German Federal Ministry for Education and Research. After one year, the data will be analyzed and checked against the observations made by Olfasense employees, who will continue to come to Sindlingen and Kelsterbach to record what they observe. "I'm excited to see what we will learn from comparing the two measurement programs," noted Schmitt.
Based in Frankfurt am Main, Germany, Infraserv Höchst is a leader in developing research and production sites in partnership with chemical and pharmaceutical companies. We provide modular custom solutions as well as innovative, integrated service packages, including complete site operation. Our competencies range from utilities, waste management, grid and pipeline operation to site services, facility management and environment, health and safety. The Infraserv Höchst Group also provides logistics, training and process equipment services through subsidiaries.
Infraserv Höchst develops solutions for demanding customers in a highly regulated environment.

Infraserv GmbH & Co. Höchst KG has 1,900 employees and 156 trainees on its payroll. The Infraserv Höchst Group as a whole has 2,700 employees and 193 trainees. In 2018, Infraserv Höchst and its subsidiaries, Infraserv Logistics, Infraserv Höchst Prozesstechnik, Provadis Partner für Bildung und Beratung and Thermal Conversion Compound, generated over EUR 1 billion in revenue.

Infraserv Höchst is the operator of Industriepark Höchst, a 460-hectare industrial park that plays host to around 90 companies doing business in pharmaceuticals, biotechnology, basic and specialty chemicals, crop protection, food additives and services. Around 22,000 people work here. Total investment since 2000 amounts to roughly EUR 7.65 billion.

All of Infraserv Höchst's press releases and pictures are available online at www.infraserv.com. Follow us on Twitter: https://twitter.com/Infraserv. To contact our press hotline, call +49 69 305-5413.